Post by nickd on Jan 2, 2013 19:36:31 GMT 1
Home Office Fraud Awards
Click here to find out who's in the 2012 official Home Office fraud line up
.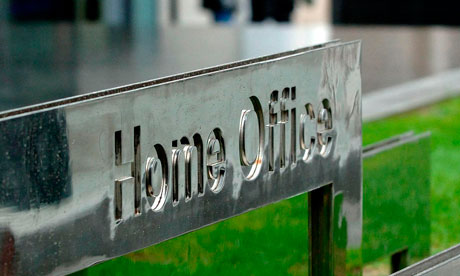 Welcome to the prestigious Home Office Fraud Awards for 2012!
Whilst Iain Duncan Smith has been busy busy busy all Christmas getting the papers to tell you all how the country is on an economic cliff edge because benefit fraud has shot through the roof we can reveal that it's all been a pretence, yes a pretence, a deliberate trap set up by the Home Office to make the real fraudsters think they've gotten away with it. Not so it seems - the Home Office has been hard at work in working out where real fraud is most prevalent and it certainly isn't to be found in the living rooms of millions of feckless jobseeker's who are hiding behind their curtains in fear of the next manilla envelope dropping through their letter boxes. No it seems that if we are to tackle really systemic fraud in the UK we should first pay a call to none other than Arthur Daley....
Yes Arthur and his diamond wholesale & retailer geezers in the private sector take top spot when it comes to the area where fraud is considered to be most rife. Remember where fraud occurs it is always YOU as as the end user who pays for it. Be it dodgy motors, fraudulently claimed insurance, dodgy banking deals - YOU pick up the tab or else they don't make a profit.
With that in mind we now take a look at the Home Office's fraudulent activity list by main category and sub category. Nobody is safe, who ever you are - the Home Office has you on its hit list - it's just a pity it does so little to name and shame the real thieves...
The Home Office

'Annual Fraud Indicator' evidence based

Fraud awards account for

£73 billion pounds

of lost revenue!Taking first place it's the - Private Sector!







Accounting for the theft of £45.5 Billion pounds
of YOUR money!Here's where the cash goes through fraud...
(1) Wholesale and Retail Trade; Repair of Motor Vehicles and
Motorcycles
£16.1 billion
(2) Manufacturing
£7.4 billion
(3) Financial and Insurance Activities
£3.5 billion
(3) Construction
£3.0 billion
(4) Professional, Scientific and Technical Activities
£2.8 billion
(5) Mining and Quarrying; Electricity, Gas and Air Conditioning Supply; Water Supply;
Sewerage, Waste Management and Remediation Activities
£2.7 billion
(6) Information and Communication
£2.4 billion
(7) Transportation and Storage
£2.0 billion
(8) Administrative and Support Service Activities
£1.5 billion
(9) Arts, Entertainment and Recreation
£1.1 billion
(10) Accommodation and Food Service Activities
£1.0 billion
(11) Human Health and Social Work Activities
£0.7 billion
(12) Real Estate Activities
£0.5 billion
(13) Agriculture, Forestry and Fishing
£0.4 billion
(14) Other Service Activities
£0.3 billion
(15) Education
£0.2 billion
In second place comes - the public sector!







Accounting for the theft of £20.3 Billion pounds
of YOUR money!
A well deserved first goes to our tax system in the second placed public sector category where we could recoup a massive £14 billion pounds or perhaps more given how previous estimates have been downgraded by the Home Office.
It certainly seems like the Home Office is well and truly homing in on all those tax havens where vast amounts of money could be recouped if only those cheating the system were tracked down, prosecuted and stripped of all their assets - freeing up much needed cash for the nation's finances.
Maybe the Home Office could turn a little bit more detective and look in to how much is lost through dodgy procurement deals where £1.4 billion could be found in central government contracting or £890 million when it comes to deals with cash starved local authorities? Perhaps second place is only to be expected given how the emphasis seems to more placed on stamping out abuse on council tax discounting rather than it is on the bigger hits within the public sector - let's hope they improve for next year's awards!
Surprisingly benefit & tax credit fraud is estimated to account for the least amount of cash with
£1.2 billion pounds
lost in actual benefit fraud and
£380 million pounds
lost in tax credit fraud claims every year.
(1) Tax System £14.0 billion

(2) Central government £2.5 billion

(3) Local government £2.2 billion

(4) Benefit and Tax Credits Systems £1.6 billion
In third place - It's any one of us

or rather 'individuals' who

Account for the theft of £6.1 Billion pounds
of YOUR money!
[/center]
An army of Dell boys it seems are out there robbing the UK adult population out of an impressive
£6.1 billion pounds
of our hard earned cash. You won't of course recognise them as Dell & Rodney but be assured they are out there in force fleecing you out of
£3.5 billion pounds
in mass marketing fraud,
£1.2 billion
in identity fraud,
£864 million
in online ticket scams,
£488 million
through dodgy rentals and a 'shocking'
£2.7 million
in 'electricity' scams - a bit of generosity being given to our rip off utility suppliers who seem to be exempt from the equation .
What a revelation these awards are as we learn how 'mass marketing scams' amount to the double the amount of fraud which seemingly exists within the benefit & tax credit system.
In last place - It's the not for profit & Charitable sector

Stealing £1.1 Billion pounds of YOUR money!
Last but by no means least in the line up is the charitable sector where registered charities in England, Scotland and Wales lose out to the tune of
£1.1 billion pounds
a year due to fraudulent activity within the sector. The total annual income for charities registered by the Charity Commission for England and Wales and the Office of the Scottish Charity Regulator, excluding cross border charities registered with both charities regulators, is £64.6 billion. Using the data collected from charities registered in Scotland, England and Wales, and based on the average percentage of lost income reported only by those who considered themselves to be 'sure' or 'very sure' of their estimate, it is estimated that charities lose 1.7 per cent of their annual income to fraud. This equates to lost income of £1.1 billion during 2010/11.
__________________________
Total revenue lost through fraud

= £73 Billion Pounds a year!
So there you have it, Britain really is on the fiddle! [/center]
To the tune of a staggering £73 billion pounds which could be recouped if only central government followed the Home Office evaluation and did something about it! Instead government focusses all of its energies on benefit and fraud detection for populist purposes when it would be better off more vigorously reducing other areas of fraud - most notably within the private sector.
Instead we continue to pump billions in to untried welfare reforms which are very much focussed on reducing 'benefit fraud' rather than we do in to the policing of what appears to be run away fraud within the private sector. The Home Office evaluation throws up question marks over the existence of fraud within society.
Questions such as these:
Will retail loss grow as we see more and more reductions in the incomes of those on the breadline?



Will procurement fraud grow as more and more publicly funded contracts end up being handed out to the private sector?



Will fraud within the financial sector grow as government appears to be increasingly less concerned about criminal sanctions for financial offenders?



Is it really cost effective to be placing such a pronounced effort in punishing proportionally lower value crime such as benefit fraud where the prospects of significant financial return are greatly diminished?
[/b][/i]
[/li][/ul]
These 'awards' have been made in jest but there's a serious point to be made here:


With benefit fraud being proportionally
so much lower

Why is government placing such an
overbearing emphasis on it?
[/b][/size][/color]
[/size]