Post by nickd on Nov 23, 2012 23:23:09 GMT 1
Iain Duncan Smith shows his
true colours
When confronted with an accusation

that Atos 'fit for work' tests

contributed to deaths

of two people.

IDS lashes out
"Hang on a second we've heard a lot from you let me tell you something I didn't hear you screaming about 2.5 million people who were parked, nobody saw them, for over 10 years not working with no hope, no aspiration, we are changing their lives, I'm proud of doing that, getting them off benefit is what we are going to do"
Followed by thunderous applause from the
benefit hating BBC Question Time audience


Here's what they were applauding:


Two deaths
Not a word of an apology

Not a word of remorse
Iain Duncan Smith showed contempt in a finger wagging display of aggression over accusations raised, quite validly in my view, by fellow panelist Owen Jones on this weeks episode of BBC question time. IDS had almost got away without answering any questions over the savage impact welfare cuts are having upon thousands of benefit claimants until the controversial 'Work Capability Assessment' raised its ugly head. The tests conducted by French private firm Atos are causing claimants endless grief; sadly in some cases a grief which is all too real....
Owen Jones asked IDS about the deaths of two claimants, Brian McCardle and Karen Sherlock; both of whom had been through the highly controversial assessment conducted by private healthcare contractor Atos on behalf of IDS's department the DWP. You can read their stories by clicking on their names; one is relayed in a heart rendering account by Brian's 13 year old son Kieran who says "Atos benefits bullies killed my sick dad". Karen Sherlock's story is eloquently written by her friend Sue Marsh who has bravely campaigned (despite battling against her own serious illness) for fairer welfare rights for thousands of disability and incapacity claimants.
IDS could not contain his anger when confronted with questions over the harshness of the tests which are seemingly finding claimants 'fit for work' when clearly they are not. IDS launched in to an instant defence of his government's dubious record on welfare with an outburst which offered no words of condolence for the two dead victims. It's a sad sign of the times that the BBC QT benefit bashing audience was so easily taken in by IDS's continued attempts to brainwash them in to believing his government has a worthy track record on welfare.
Why are people who are so clearly ill exposed to the indignity of benefit assessment? Surely it's time questions are asked over why the word of a claimant's own doctor can't be accepted in preference to the computerised assessments churned out by Atos and all too often overturned after months of waiting by independent tribunals?
6% is the DWP figure for claimants who die within six weeks of closing their claims. Claimants like Brian McCardle probably wouldn't even appear in the following DWP figures because Brian would have been in an ongoing dispute process with the DWP...
Extracts from a DWP reported issued in July 2012 give some limited information in to the numbers of people who die with an incapacity benefit claim history.
In total, between October 2010 and November 2011, some 10,600 claims ended with a date of death being recorded within six weeks of their claim ending.
2,200 had not had their assessment completed


1,300 had been found fit for some work


7,100 had been placed in the most severe incapacity group (ESA Support)

[/b]
The figures do NOT include those who have been found 'fit work' (which would include the late Brian McCardle, or those awaiting an appeal). It should be remembered that awaiting and going through an appeal is highly likely to be the most stressful of all claim situations - stress is a known killer.
Those in the Support Group should receive unconditional support due to the nature of their illness, which can include degenerative conditions, terminal illness and severe disability. The DWP qualify their report with the following warning:
"Note it is possible that the claimant had already closed their claim and then subsequently died, meaning that these figures may overestimate the true picture. Care should therefore be taken when interpreting these figures. "
What the DWP appear to have overlooked is that some claimants who 'closed their claims' may have done so because of misunderstanding the rules relating to their claims whilst in Hospital. Generally speaking they can continue to claim incapacity benefits but disability premiums can be affected in claims related to income support claimed on the grounds of disability. These can be related to certain payments of Disability Living Allowance (with links to Income Support 'premiums') which may stop after 4 weeks of hospitalisation. It is quite possible that some will have died in hospital or other institutions after 'closing' their claims with an unresolved problem over the administration of their claim. It's a complex area with many different regulations; thus the scope for mistake is always there.
The number of claimants coming 'off' incapacity benefits shows an increasing rate in the following table (these are expressed as 'off flows'):
Table 1: IB/SDA and ESA off-flows with a date of death in 2008/09, 2009/10 and 2010/11, Great Britain, The first column is the overall number of off flows, the second is the number who have a recorded date of death following closure of their claim and the percentage figure relates to the number of recorded deaths against the overall number of 'off flows'. Remember these do NOT include those found fit for work or who were appealing:
IB/SDA & ESA


2008/09 -- 650,330 -- 41,870 (6%)
2009/10 -- 692,450 -- 42,100 (6%)
2010/11 -- 728,740 -- 41,750 (6%)

Isn't it just a little strange how despite all of these 'off flows' from incapacity benefits the overall claimant count hardly comes down at all? We will go on to check the figures and see how IDS's government is doing very little to get claimants 'off there benefits'. You know why? Because it has come to a realisation that 2.6 million claimants in this country are either extremely limited in their ability to work or unable to work at all - that's the truth of this.
I've checked the 'off-flow' figures (a simply dreadful use of terminology) which confirm that 728,740 claimants 'flowed' off incapacity benefits in 2010/2011 compared with 661,800 who flowed 'on' to the much stricter Employment & Support Allowance in a 12 month period from April 2010. You will see the relevance of these figures if you read on.
You can view IDS's 'working dead' statistics here:
[/size][/center]
Now let us take a look at parking


By those who do it best


'The Tory incapacity parking experts'
[/color][/center]
(Just click to view)
[/size]
It's truly staggering how the BBC Question Time audience is so blissfully unaware over what's really going on in the world of welfare, it's nothing short of contemptible that Iain Duncan Smith essentially collected a round of applause over the deaths of two people who clearly were far from 'fit for work'. By virtue of their disrespectful applause, the badly misinformed public of today appear to think that death is a price worth paying for getting people 'off their benefits'.
Their claps of approval would I suspect turn to echoing booing if they realised IDS isn't reducing the claimant count at all.
In truth IDS knows the figures because he's been studying it in detail for years. IDS knows very well that it was his party which 'parked' 2.6 million people on to the incapacity benefits his party proudly introduced in 1995. He knows the reason too; it was his party which had similarly 'parked' millions on the dole in the Thatcher years as a result of changing the manufacturing base in their age old attempts to private everything in sight.
IDS also knows that it was his party which saw incapacity claims double from what they were when they came to power in the 1970's. Huge numbers on the dole were an embarrassment to his party which his why they conveniently became all 'disability friendly'. Throwing around 1.5 million on to incapacity was a stunt - who would ever know? Who would care? - not the Tories; - they silently created the 'welfare wilderness'.
The problem is we've never recovered from the Tory parties' wilful neglect and manipulation of the statistics, I doubt we ever will.
Some may say; why didn't Labour reduce the numbers? - well actually they did. The following chart shows the reduction during their term:
It looks more dramatic than it really is because the graph is measurable in fairly small claimant variation figures. The actual numbers historically flat - line at around 2.6 million and have done so ever since the 90's. In real terms the overall claimant changed by only around 100,000 in the entire 13 year Labour term whereas under the Tories it shot up in millions - that's the irrefutable truth of all of this. Labour actually did well to maintain the figure at around the 2.6 million mark when you consider (see the next post) how the population and mortality rate has increased. You also need to factor in changes in healthcare where people live through more treatable illnesses and work longer in to their retirement. The Tories often quote the monetary rise rather the actual claimant statistics; an increase in expenditure must also be viewed in comparison with a rise or fall in GDP.
The Tories introduced Incapacity Benefit under the 'all work test' rules, it was subsequently changed by Labour to the 'Personal Capability Assessment' (PCA), at the time held to be one the best tests for assessing incapacity in the world. Ironically it was Atos who conducted many of the assessments which declared thousands as unfit to work under both the All Work Test and the PCA. PCA testing was however the responsibility of the DWP; so if anyone is to blame for irregular assessment it is them - for those who were not assessed it was the DWP who were nothing short of reckless in the neglect of those who have since become socially isolated, lacking in confidence and motivation following years in the welfare wilderness. It was Atos who happily assessed these claimants under both the old and new rules - a factor which is all too often forgotten.
It also has to be accepted that many of these claimants have conditions which make it either impossible to do any work at all or who have limitations which enable them to do some work but with the right amount of support.
IDS knows all of this and so does Lord Freud, they've carried out endless hours of research in to recognising all the real barriers which claimants face in transitioning from welfare and in to work. That's why Employment and Support was introduced with its ethos focussed in supporting those with recognised limitation in to work. The problem is the Work Capability Assessment is next to useless in identifying those with a limitation; it is therefore depriving people of the chance they need because under the Tories the reality is they see 'support' as an unaffordable extravagance.
That's why IDS let the cat out of the bag when he remarked: "getting them off benefit is what we are going to do"
IDS's outburst illustrates how his parties real intention is to completely negate the purpose of Employment and 'Support' Allowance - without the right support these people simply won't stand a chance of being phased in to employment. It'll just be another A4E all over again; except this time it's being done on a much grander and more expensive scale - the Work Programme is colossal in terms of its overall expense.
IDS went and lost his rag on Question - Time because he's got himself all stressed out and angry. I'd guess it was an anger more inwardly directed towards his chancellor than Owen Jones. It's Osborne who's crippled IDS's 'flag ship' Work Programme work by curbing the amount of cash IDS would dearly love to throw at it. Given the meagre number of incapacity related claimants the programme has managed to 'attach' to the programme perhaps his chancellor has a point. Up to February 2012 a pitifully low 7,990 number of incapacity benefit related claimants have been 'attached' to the programme - it's hardly delivering IDS's much heralded but far from evidenced based promise to get 'people back to work'. An attachment is by no means a job offer - it's only the start of a 'support' package.
If IDS isn't getting all these claimants back to work in line with his promise to 'turn people's lives around' - what's his party doing with all of these claimants?
Not a lot is the answer - it's all a massive spin.
DWP statistics on Employment & Support Allowance from October 2008 to February 2012 show an astonishing number of 2,217,500 'cases' have been subject to placement in the Department's mysterious 'assessment phase' (every single ESA claimant must first go through this). The shocking reality is that we are talking about 2.2 million lives with 728,740 of them 'flowing off' these benefits in one year if we use 2010/2011 as an example. We've had endless statistics telling us how many have been found 'fit for work', how many have gone on to win their appeal, how many have been placed in the 'Support Group', in the 'Work Related Activity Group' and now we know that 6% of the 'off - flows' end up dead. Oh and let us not forget how the 2,217,500 figure is a separate one to the thousands going through incapacity benefit to ESA conversion - these are carried in a separate set of statistics.
Monthly ESA claim averages since October 2008:
The numbers of claimants 'flowing on' to the much stricter Employment & Support Allowance averages out at 54,085 new claims per months over the 41 month period from October 2008 to February 2012.
These are truly astonishing figures, what we are talking about is the DWP already exceeding the entire 2.6 million claimant count when placing claimants through the dreaded ESA 'assessment phase' - it's an agonising wait for thousands of claimants who have to sit tight to see if Atos declare them a genuine case or a faker. What government doesn't get is how all of these people feel as though they are on trial accused of falsifying their illnesses.
Government will no doubt 'stand by it's results, to which I would say, what results?
Parliamentary Secretary Robert Devereux's evidence into his Department's accounts revealed that they were looking at no less than 130,000 incapacity claim reviews per month (which equates to 1.5 million a year) with some 740,000 Atos assessments every year. Surely the tax - payer must be seeing some return for the millions and billions of pounds thrown at this relentless re-assessment programme?
It will come as a massive disappointed to the tax - payer to realise they are being completely hoodwinked by IDS and his farcical justification of this scheme.
Is IDS pleasing his chancellor by getting people 'off benefits'?
You must be kidding, - the BBC Question Time audience wouldn't be clapping - they would probably end up lynching IDS if they knew the truth.
Here's 3 simple figures which show how 'effective' the Employment & Support Allowance reassessment programme is in reducing the overall numbers across all incapacity benefits:
August 2008 - 2,590,600


February 2012 - 2,578,700


Reduction to date = 32,900
I will leave you with some interesting statistics for the numbers 'flowing on' to all incapacity benefits in different quarters between 1995 (hardly 'it's all Labour's fault) and 2005.
May 1995 (Quarterly) 263,000 Monthly average = 87,866

May 1997 (Quarterly) 231,700 - Monthly average = 77,233

May 1999 (Quarterly) 200,400 - Monthly average = 66,800

May 2001 (Quarterly) 194,800 - Monthly average = 64,933

May 2003 (Quarterly) 177,900 - Monthly average = 59,300

Feb 2005 (Quarterly) 127,600 - Monthly average = 42,533
Taking the figures nearer towards 2008 we home in on the number of new claims (in - flows) on to Incapacity Benefit
before
the introduction of Employment & Support Allowance. A monthly average of 42,533 shows a continuing reduction whereas the newer ESA figures show an escalation. To some extent these is to be expected because of the overlap between an older and newer replacement benefit but what you have to consider is that after October 2008 almost all new incapacity 'on - flows' are via the ESA route because it's the benefit all new claimants have to claim.
The escalating ESA 'on flow' figures show more people are claiming when compared with previous incapacity claims. It's highly suggestive evidence that people are coming off either ESA and going straight back on to it after a failed appeal or adverse decision. A certain amount would naturally transfer from Incapacity Benefit, Income Support or Severe Disablement Allowance but the high 'fit for work' figures quoted by the DWP give the game away - you just go to the overall claimant count to see if the figures really are coming down - the fact is they are not.
With over 425,000 in the ESA 'assessment phase' and large numbers in an untracked IB to ESA 'conversion phase' it's plainly obvious what's happening here - claimants are just 'spinning' on and off their claims - it stands to reason that if these reassessments were genuinely reducing the numbers we would be seeing a fall in the overall claimant count - there is no appreciable fall.
The monthly inflow averages on to ESA are actually higher than they were with incapacity benefit numbers - that's the reality, except this time IDS and his Department have taken to hiding thousands of claimant in an 'assessment phase'.
The DWP 2008 report confirms:
"There were 582 thousand new claims to working age Incapacity Benefit in the year to February 2008" (which averages out at 48,500 claims per month)
It is high time someone got to grips with this and carried out a proper ruthless audit in to the numbers of claimants who are coming off IB. Regardless of being turned down for their ESA they are going straight back on it. We can see why when we see people - like Brian McArdle and Karen Sherlock - they clearly were not as 'fit for work' and ready to 'come off benefits' as IDS would have you all believe.
When it comes to incapacity parking
No one does it better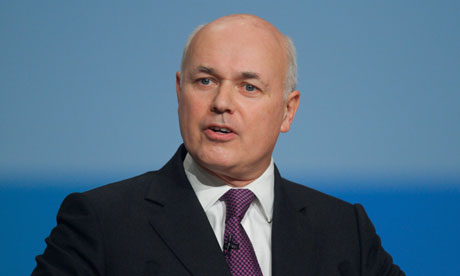 The Tories - Parking people on the

sick since the 80's and

still going strong