Post by nickd on Jan 17, 2013 22:17:01 GMT 1
Is Atos target based?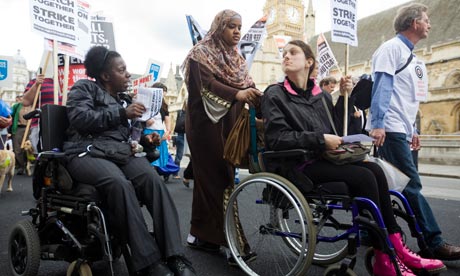 "To work to agreed productivity targets and standards agreed between Atos Healthcare and the DWP"
In Parliament today the Employment minister Mark Hoban refuted a suggestion that the DWP's private healthcare contractor worked to government set targets, he also denied that Atos worked to their own targets.
It's an interesting claim which Mr Hoban makes given a couple of factors. The first factor is that government is almost certainly working to a pre-set target as revealed in a Parliamentary Standard note (SN 140) which sets out the government's plans in respect of how it is specifically looking at reducing the benefit count.
• Atos - General Information
• Search & Apply
• Atos Job Alerts
• My Profile
• Open Application
Job Details
Registered Physiotherapist - Disability Analyst - UK Wide
Reference no.
133387
Country
United Kingdom
Region
UK Wide, UK - London, UK - Northern Ireland, UK - Southeast, UK - Warwickshire, UK - East Anglia, UK - Southwest, UK - West Midlands, IE - Ireland wide, UK - East Midlands, UK - North, UK - Northeast, UK - Northwest, UK - South, UK - Scotland, UK - Wales
City UK Wide
Position Type
Professional
Job Area
Medical / Healthcare
Job Type
Full Time
Company
Atos Healthcare
Company Information
Atos Healthcare, a division of Atos Origin, combines the Company's expertise in consulting, technology and healthcare to improve the way care is delivered. Services range from lean service transformation, commissioning, hosting and software development, through to disability assessments, occupational health and front line primary care. Atos Healthcare has a team of more than 2500, of whom over 1900 are qualified medical professionals
Atos Healthcare is a leading provider of occupational health, employee assistance programmes, primary care and capability assessment services. We make a positive difference to the health and wellbeing of some of the UK's largest organisations, delivering services that benefit over two million people each year. Our occupational health, counselling and screening services, enable employers to pro-actively promote employee wellbeing, reducing sickness absence and ensuring maximum workforce productivity.
Job Description
Main Purpose of Role
To undertake medical assessments and examinations required for the Department of Work and Pensions (DWP) as part of a successful integrated team.
To contribute to the commercial relationship between Atos Healthcare and the DWP at a local level, ensuring that targets are met in quality, productivity and customer satisfaction.
To undertake a combination of file-work assessment (which is assessing medical evidence in a written or electronic format) and face-to-face assessments of customers in relation to a variety of benefits and provide a report to the DWP.
Overview of role & main responsibilities:
• To undertake file-work / and or examinations using Evidence Based Medicine (EBM) protocols to support decision making in the assessment of disability and incapacity.
• To use IT software programmes to support clinical decision making when undertaking file-work and examinations.
• To provide comprehensive reports to enable decision makers at DWP to make informed decisions regarding benefit claims.
Job Requirements
Essential requirements of Role
• Registration and continuous professional development should be maintained in accordance with the requirements of Post Registration and Practice (PREP) standards set by the HPC.
• Ensure that professional practice standards and "best practice" are maintained in all areas of work
• To work to agreed productivity targets and standards agreed between Atos Healthcare and the DWP
• To work unsupervised and use own initiative however know limitations and ask for support where necessary
• To analyse and interpret clinical information and medical evidence and provide a report in a professional and concise manner.
• Work well as part of a multidisciplinary team and build positive working relationships with both medical colleagues and administrative support staff
• Have highly developed both oral and written communications skills and be able to negotiate successfully and respond to rapidly changing work environment.
• Be able to apply professional skills and manage own professional competence and accountability, in accordance with the HPC Code of Professional Conduct.
• Undertake any ad hoc responsibilities as requested by the Site Medical Manager or Nurse Team Leader.
Essential skills and experience
• Registered General Nurse with a minimum of three years post registration experience.
• Broad based experience and assessment skills. Previous experience of disability assessment and experience of clinical decision making desirable.
• IT literate with experience of using a range of software. To have completed ECDL or equivalent is desirable.
• Ability to travel to a range of locations as the business requires.
• Highly developed written and verbal communication skills
• Experience of change management and the ability to influence and negotiate successfully with a range of people. A management qualification is desirable.
• Evidence of responding to unexpected changes by adopting a flexible approach to work
• Evidence of ongoing professional development
• Ability to work to targets and specified standards
This job description is not intended to be exhaustive and may be revised from time to time to reflect the changing needs of the business.
Additional Information
Compensation and Benefits
In return we offer a competitive salary, contributory stakeholder pension scheme, generous holiday allowance, employee private medical cover, Life assurance, Personal Accident Insurance, Season Ticket Loan and a flexible benefits scheme that allows you to purchase discounted products and services. Additionally, comprehensive training and development is delivered in a variety of ways, leading to accreditation if required.
Contact Info
If you wish to apply for this position, please click below to complete our online application form and attach your CV in either Word, rtf or text format.
Applications will be reviewed by the retained recruiter for Atos Healthcare on the DWP Programme, sjb medical. We are also pleased to offer a generous referral scheme to anyone wishing to refer friends or colleagues for this role. For further information please email jobs@sjbmedical.com with contact details for both yourself and those who you wish to refer for this role.
Atos Origin does not discriminate on the basis of race, religion, colour, sex, age, disability or sexual orientation. All recruitment decisions are based solely on qualifications, skills, knowledge and experience and relevant business requirements.
• Apply for this job
• Email these job details to a friend
• Back to search results
© Atos S.A. 2011 all rights reserved