Post by nickd on Mar 18, 2012 19:34:42 GMT 1
The Ministry of Justice has issued what can best be described as a 'diy' guide to appealing for Employment & Support Allowance.
Note: The MOJ video has been pulled but scroll down as we have captured it on Youtube for now.
Watch it and then read what really happens from the perspective of a welfare benefit specialist.
(1) A misleading omission in the video is that before reaching the stage where you would complete the Tribunal's Service 'pre-appeal enquiry' form (called a TAS 1 form) you actually need to have lodged your appeal. It does not make it clear that this should be done first.
It's best done on the DWP's appropriate form, otherwise known as a GL24 form. If you don't lodge your appeal; - it doesn't even reach the Tribunal. People watching this video will not necessarily know what stage they are at. They may have received the DWP's decision letter and be mislead into thinking they have to wait for the form mentioned in the video, the right action they need to take is to lodge an appeal or ask for a reconsideration. It's all explained in the GL24 booklet which includes the appeal form. In Gareth's case it would be important for him to have mentioned both his physical & mental health problems when completing his Employment & Support Allowance (ESA 50) questionnaire and his appeal form; - in some cases the Tribunal would rule out considering Gareth's mental health problems unless they were an issue raised either before or when he lodged his appeal. This is where a lot of these appeals go wrong (you will see what I mean when you look at the second video at the end of this article)
(2) The Ministry of Justice show you a relatively informal room where your appeal is likely to be heard.
The reality is that since the merger of the Courts & Tribunals Service, a person bringing an appeal for benefits is quite likely to face the formality of a courtroom. I know this from my own experience and have even challenged it in an Upper Tribunal. It was held that a courtroom is not too formal, the Upper Tribunal took the view that the Court & Tribunal merger would mean Tribunals would have to use the accommodation available at court venues. It means the person bringing the appeal could find themselves some way from and looking up to the Tribunal panel members who sit on an empanelled raised plinth. The Royal Crest hangs above their heads and my clients tell me they feel intimidated by the courtroom environment; - some even tell me it makes them feel like a criminal. It won't necessarily be like the Magistrates' court shown above, but it will be fairly similar if your hearing is held in a court complex. Our local county court uses its main courtroom for county court proceedings, as a Magistrates, it has the jurisdiction to hear a high court case and it hears benefit appeals on a regular basis. Not all Tribunal venues are the same, but those who face a hearing at a court venue should be warned what to expect. Misleading them could lead to a situation where they are shocked when they arrive at their hearing to hear it is being conducted in court. In most cases the Tribunal will do all it can to put you at your ease; - but it's not always as 'user - friendly' as the video portrays. This is why we feel strongly that clients should be helped through the process.
(3) The Ministry of Justice video tells you that the doctor will be just like your own general practitioner.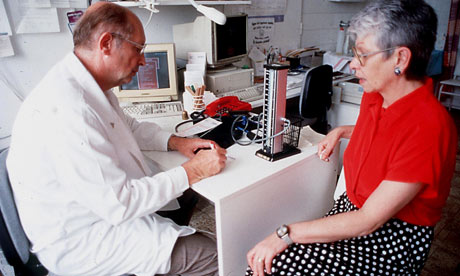 Well no they won't be like your doctor at all. For one they won't medically examine you and nor will they have access to your medical notes either. Indeed, in most cases the DWP does not routinely supply the Tribunal with copies of the medical certificates a claimant sends to the DWP; - I usually have to make an application for the DWP to produce all the evidence and in some cases it will be necessary to get this in the form of a 'letter of instruction' from the client's doctor. In some cases the client cannot afford the cost of a medical report from their own doctor so an application has to be made to the Tribunal for it to use its powers to obtain medical evidence. It's misleading for the Ministry of Justice to say the doctor on the panel is like your own doctor; - some could take this to mean that if the claimant is found fit for work then they can disregard the word of their own doctor who may have a different view of the opinion of the Tribunal doctor. Patient's should never be put in a position where their relationship with their doctor is put into question. The Ministry of Justice should not be telling claimant's that the medical panel member is like their own doctor; - both have very different functions. That's not to say that some Tribunal doctors are not very good at listening to what a claimant has to say.
(4) The Ministry of Justice didn't say much about the importance of evidence.
The Ministry of Justice are very much underplaying the importance of the use of 'evidence' in an appeal. The Ministry of Justice pays the Tribunal judge a judicial salary because of the complexity which surrounds social security law. The DWP will prepare the case by writing a submission of evidence, typically around 50 - 60 pages. This will include copies of relevant law, the decisions, claims forms, the claimant's appeal and details of the medical report carried out by the private firm ATOS; - it's often the medical evidence which is most controversial. Decision - maker's departments are awash with appeal papers, the Tribunal centres are overladen with case papers and in our offices we have filing cabinets full of appeal papers for the clients we represent. In more complicated cases the papers can amount to hundreds and hundreds of pages. In our legal aid specialist welfare benefit office, we would never send a client to a Tribunal unless we had explained everything to them and fully prepared a submission in response to the DWP's appeal papers. We look at everything and sometimes have to challenge the DWP in the way they have brought the case; - it can involve hours of work and special applications which a client just will not generally understand unless they really know what they are doing. Some appeals can involve the Tribunal in issuing 'directions' and adjourning the case, it is always best for the claimant to seek advice as appeals can be a lot more complicated than the above video would have you believe. For instance, in some cases the doctor will answer questions as they are asked in the claimant's benefit forms, this can be misleading as they are not the same questions which the Tribunal is obliged to follow according to the law relating to Employment & Support Allowance (see below mentioned 'case law'. In some cases, even though we are not funded to do so, we will represent our client at the appeal in person. We stand by our results;- we win around 70% + on Employment & Support Allowance appeal cases.
(5) The Ministry of Justice scores an own goal with the presence of Imogen, the person who helped Gareth with his Employment & Support Allowance appeal.
In the video neither the Tribunal Judge or the doctor asked Gareth about any mental health problems. It was only when they spoke to Imogen that she told them all about his depression; - what if she had not been there?
It is important to make sure full details of Gareth's physical and mental health problems are noted, this can take some time as people like Gareth understandably find it hard to tell others about the problems they have. We use our professional skills & experience to get a full history from our client; - the Tribunal often tells us how helpful it is to get the full picture before they are due to hear the case - it helps them reach the right decision quickly and without putting the client through the trauma of answering a lot of potentially irrelevant questions. The Tribunal is meant to look through all the evidence before and during the hearing; - in the video there was none of the usual referring to the evidence which normally happens in an appeal hearing; - Gareth didn't seem to have any of the DWP's usual appeal papers at all.
In Gareth's case the mention of his depression would be quite critical to whether or not he would be awarded enough points when added to his physical problems to qualify for the allowance. If the Tribunal agrees with our argument, they can help Gareth by getting him the support he needs to help him back to work. Employment & Support Allowance is meant to be about getting people an
allowance
for the
support
they need to improve their chances of getting back into
employment
. The right result is a correct assessment; - it's what we always aim for and what we do best as specialists. The Ministry of Justice just doesn't seem to get the vital role we play.
We see many clients like Gareth, some of them have worse or different conditions and don't have friends like Imogen to help them; - these people need someone on their side. It's very difficult for a claimant to be able to tell the Tribunal how they are affected on a day to day basis, some may experience problems on a very variable basis and it is quite often the case that a claimant speaks to a Tribunal in a very positive light because that is how they want to be; - the reality is that sometimes the full picture is not provided unless the claimant gets help with 'stating their case'.
(6) Having watched the video at the top of this page, now take a look at this one.Unlike the Ministry of Justice video, Hester is a real person rather than an actor. Hester couldn't deal with her own appeal and nor could her mother (a fully qualified social worker). The Tribunals Service referred Hester to see us and shortly afterwards she won her appeal (she had to attend an adjourned Tribunal before seeing us). Hester had been waiting for nearly a year to get the support she needed and now the DWP are re-assessing her all over again, we are now helping again and have pointed out to the DWP that we have already been through an appeal. We fully prepared Hester for her appeal and the Tribunal quickly decided her case in her favour. The ATOS doctor who saw Hester said she would have no limitation in her ability to undertake any form of work. Hester went to see her MP who like the Tribunal advised her to let us handle her appeal.

In March of last year, I spoke with the legal aid minister Jonathon Djanogly and invited him to come and visit our specialist welfare benefit office in Devon; - he's yet to take me up on my invitation, it's a shame really as I would happily show him a good few examples of the specialist appeal work we do for people like Hester.


The Ministry of Justice really need to think about again about this video and portraying these appeals in such a simplistic light. The cost of mistakes in the first tier tribunal Gareth attended are highly likely to lead to more Upper Tribunal judgements (see below) purely and simply because the Ministry of Justice is encouraging people to try and deal with an appeal without proper professional help. Even in the case below the Tribunal made an error of law despite the claimant being represented, the representative then took the case to a higher level where it was overturned. Claimants on their own will be blissfully unaware of the errors being made.